Installation instructions for part #48485
INSTRUCTIONS:
Loosen the set screw (A) on the connector and remove the socket from the housing. Route wiring through socket housing. Strip wires 1/4" and tightly secure them to socket terminals. Align socket keyway with housing key (B) and insert socket into housing. Tighten set screws.

NOTE: Locate wires on vehicle by function only. Color coding is not standard with all manufacturers.

CAUTION: Connect auxiliary power lead to fuse block or fused battery lead. 20 Amp.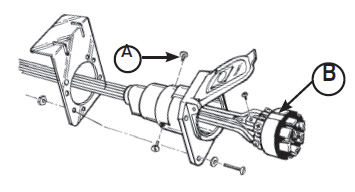 _____________________________________________________________________________
INSTRUCCIONES:
Afloje el tornillo (A) del conector y saque el enchufe. Dirija los cables a través del conector. Desforre los cables 1/4 de pulgada y asegúrelos firmemente a las terminales del enchufe. Alinee la ranura del enchufe con la del conector (B) e introduzca el enchufe dentro del
conector. Ajuste el tornillo.

NOTA: Localice los cables del vehículo por su función solamente. El código de colores no es igual para todos los fabricantes.

PRECAUCIÓN: Conecte conductor de alimentación auxiliar a la caja de fusibles o al conductor de la bateria con fusible. 20 A.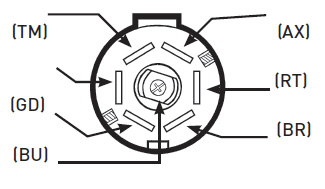 WIRE IDENTIFICATION
IDENTIFICACIÓN DE LOS CABLES
(GD) = Ground / Tierra
(LT) = Left Turn / Direccional Izquierda
(TM) = Taillight / Luces traseras
(BU) = Backup / Reversa
(AX) = Auxiliary / Auxiliar
(RT) = Right Turn / Direccional Derecha
(BR) = Electric Brake / Eléctrico del Freno