Installation instructions for part #48445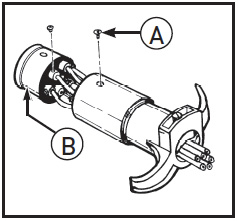 1. Loosen set screw (A) on the plug and remove housing. Route wires through housing.

2. Strip 1/4" from wire ends and tightly secure them to the plug terminals. Attach wires to the corresponding trailer function wires.
NOTE: It is important to attach wires to plug in the same positions as found on the car end socket.
3. Align plug keyway (B) with housing key and insert plug into housing. Tighten set screws.

LOCATE WIRES BY FUNCTION ONLY
White - ground (GD)
Yellow - left turn (LT)
Green - right turn (RT)
Brown - taillight (TM)
________________________________________________________________________________
1. Afloje el tornillo (A) del enchufe y retire la caja. Deslice los cables a través de la caja.

2. Pele las puntas de los cables 1/4" (6,4 mm) y apriételas en las terminales del enchufe. Conecte los cables del remolque a los polos del conector, de manera que coincidan con su función correspondiente.
NOTA: Es importante que los cables se coloquen de manera que queden conectados de la mismas forma en la que se encontraban en el interruptor del extremo del automóvil.

3. Alinee el enchufe de chavetero con la llave (B) de la caja e inserte el enchufe dentro de la caja. Apriete los tornillos.

LOCALICE LOS CABLES POR FUNCIÓN SOLAMENTE
Blanco – Tierra (GD)
Amarillo – Direccional izquierda (LT)
Verde – Direccional derecha (RT)
Café – Luces traseras (TM)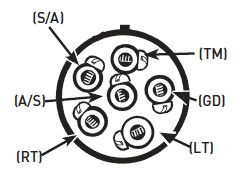 WIRE IDENTIFICATION /
IDENTIFICACIÓN DE LOS CABLES
(GD) = Ground / Tierra
(LT) = Left Turn / Direccional Izquierda
(TM) = Taillight / Luces Traseras
(A) = Auxiliary / Auxiliar
(RT) = Right Turn / Direccional Derecha
(S) = Electric Brake / Eléctrico del Freno