Installation instructions for part #47545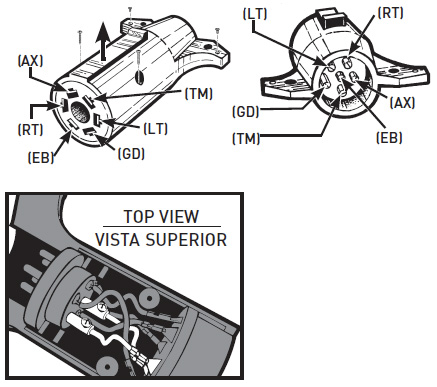 This adapter has the capability to change the electric brake and battery pin locations adapting to different codes.

WIRE IDENTIFICATION
GD = Ground, white wire
TM = Tail, brown wire
LT = Left Turn, yellow wire
RT = Right Turn, green wire
AX = Battery, black wire
EB = Electric Brakes, blue wire

To change wiring functions, remove screws and switch the black and blue wires.
NOTE: Locate wires and pin location by function only. Color coding is not standard among
all manufacturers.
_____________________________________________________________________________
Este adaptador tiene la capacidad de cambiar la localización de los pasadores de los frenos eléctricos y la batería adaptándose a códigos diferentes.

IDENTIFICACIÓN DE LOS CABLES
GD = Tierra, cable blanco
TM = Luz trasera, cable cafe
LT = Direccional izquierda, cable amarillo
RT = Direccional derecha, cable v erde
AX = Batería, cable negro
EB = Frenos Eléctricos, cable azul

Para cambiar las funciones del cableado, retire los tornillos y cambie los cables, azule y negro.
NOTA: Localice los cables y la localización de los pasadores por función solamente. Los códigos de color no son la norma entre todos los fabricantes.